According to the panelists at Heavy Duty Aftermarket Dialogue's virtual discussion on technology and distribution, the transportation industry will need to rely on a new arsenal of digital weapons to gather data, diagnose issues, and power remote communication.
"As our equipment gets more and more technical, and they're effectively computers on wheels today, the skill level that we require of our technicians is so critical," said Kyle Treadway, the dealer principal at the Utah-based Kenworth Sales Company, which has 31 locations across 10 states.
And there is little time to upskill trucking's maintenance bay workers and parts specialists, as is often the case with technology, the digital transformation has quickly and wholly enveloped modern trucking systems.
Several systems are now integrated with complex electronics that require more than a wrench and elbow grease to repair. For instance, sophisticated sensors and cameras inform split-second decisions within the advanced driver assistance systems, which then may activate the brakes or nudge the tractor-trailer back within its lane. And when something is off with the engine, other sensors will transmit that data to a cloud solution to diagnose potential causes and recommend where and when to resolve the problem.
"We know that with the [ADAS] coming into play, it's going to get even more complex, and with remote diagnostics, that the adoption and understanding of technology is incredible," asserted Treadway, a third-generation Kenworth dealer.
Because these complex systems are beyond the mechanical scope of even a seasoned truck driver, they turn to technicians to have that understanding. And more often, technicians are turning to an upgraded toolset that includes virtual communication and training aids such as wearable computers.
The Microsoft HoloLens Google Glass and RealWear HMT-1 are a few examples.
The HoloLens, which uses mixed reality, provides 3D renderings on its visor so product designers, complex assembly workers, and even doctors have turned to this solution to enhance their spatial understanding of a problem, like the angle of approach for heart surgery. These devices can also work within the context of actual environment, overlaying digital instructions on the heads up display (HUD) to keep track of complex wiring. HoloLens apps can be created in the same vein as smartphone apps.
They also provide immersive training opportunities in a time where the pandemic prevents people from hands-on learning, as SAF-Holland, which manufactures truck and trailer components for OEMs and the aftermarket, can attest. Company president Kent Jones said his team purchased some HoloLens units to conduct training sessions on their fifth wheel, for example. The trainer from SAF-Holland could be at a laptop anywhere in the world, while the trainee, perhaps at a fleet maintenance facility, dons the HoloLens and can receive whatever digital images or video streamed to the visor.
"You can look into the lock set and you can see — almost like a 3D drawing— what is happening, so via the training scenarios that are taking place, you can describe to the fleet what wear components look like or products that need to be replaced on certain intervals," Jones explained.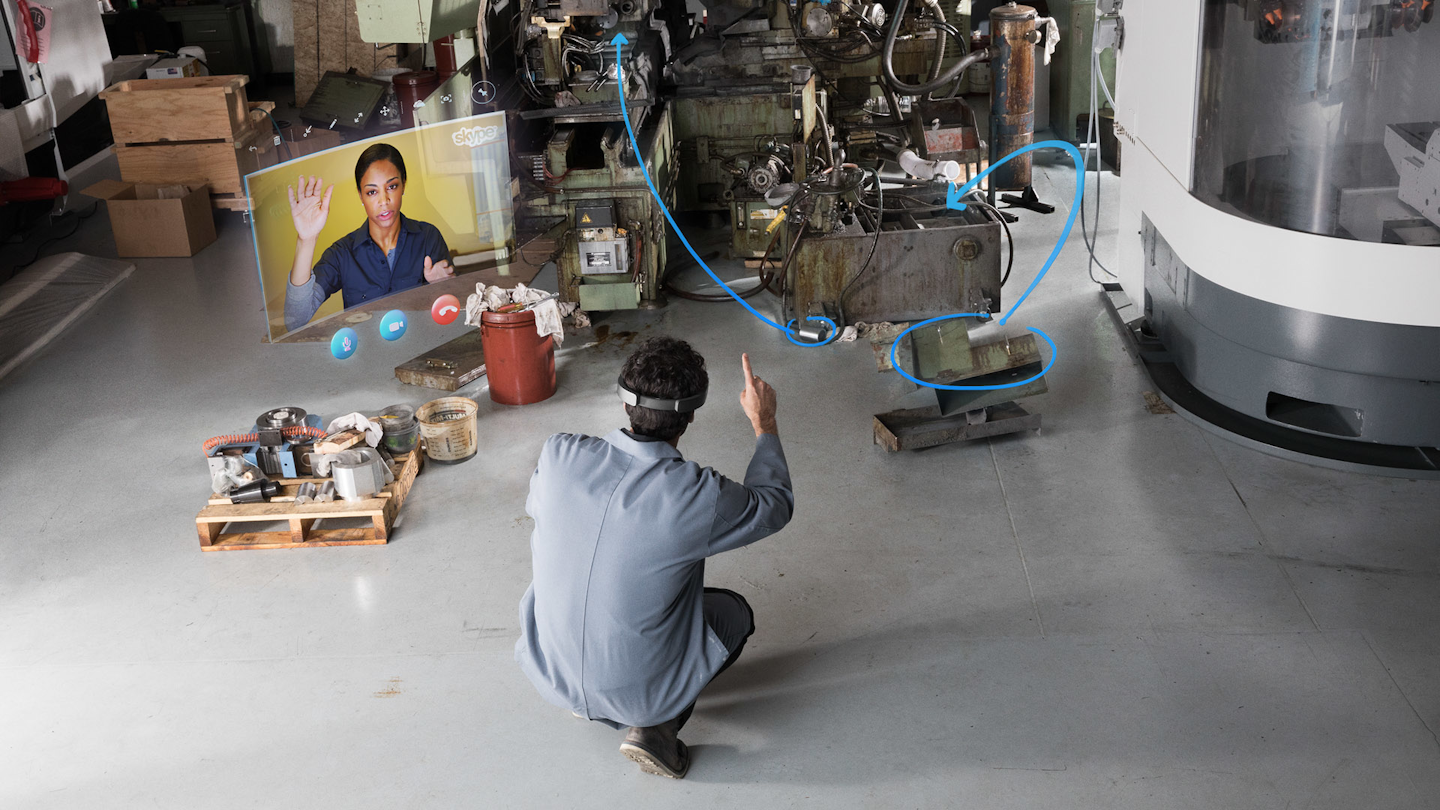 The Microsoft HoloLens is a mixed reality device that allows the user to interface with a remote expert, who can augment the wearer's environment with digital graphics to augment their understanding of complex tasks.Photo courtesy of Microsoft
He said the device can also help customers spec their trucks better because they can have a higher understanding of how it fits into their overall truck and the installation and service requirements. Conversely, the camera on the device can stream real-time view of a component in the maintenance bay to product experts at the manufacturer, which can be vital to speeding up a warranty claim while collecting historical data.
"To be able to have an engineer or certified service technician on the other side, to be able to see exactly what's going on so really facilitates and accelerates the level of communication when you can't have that face-to-face," Jones said. "If you haven't looked at these in your own organizations, the Microsoft HoloLens is a reasonable investment that will really give you best practices."
After Jones finished the high-level overview of SAF-Holland's HoloLens deployment, Treadway noted how the device could facilitate service at his dealership.
"Warranty certification for our technicians is incredibly important, but the lack of in-person training has been very limiting and debilitating for our team, so it's important that we have training that is virtual that is, it's not only cost saving, but it's effective," Treadway said.
Treadway noted Kenworth Sales Co. already invests heavily in digital and video communication.
"We're a relationship-based business, and if you can't be face-to-face with people, and you have to measure up some other way, and so communication is king in this."
Parts ordering
The digital transformation in the bay has also impacted parts procurement, which for many shops required a litany of manual steps.
"The old way was my truck has a check engine light, so I pull into a shop, and now we diagnose, repair, and reorder parts," explained Tyler Robertson, CEO of Diesel Laptops and former fleet service manager. "And that's almost getting reversed now with the remote diagnostics."
Robertson's company provides diagnostic hardware and software to improve the speed and accuracy of maintenance, and his founding of the company was due in part to the inefficiencies he had experienced at the dealership level.
"It always amazed me when my technician would work on something, they find a problem, now they have to stop working, they have to go talk to a parts guy, or if you're independent shop, you have to pick up the phone and call someone and give a VIN number and figure what part you need it," he recalled. "And it just slows the whole process up, and now you're finally starting to see OEMs kind of put all that stuff together."
Robertson explained the modern, advanced way is to receive a fault code, follow the "tree," find the part number to buy, click a button, and it shows up.
"That's the way it should work," he said. "We're a long ways from that, but not as far as people think. But that's really where I see the industry going in the aftermarket world for all of these independent repair shops that are out there."
Wayne McKitrick, vice president of sales at N.A. Williams Company, agreed.
"In the last five years, the amount of data decisions are increasing rapidly, and a lot of the folks in the heavy duty distribution channel are starting to catch up," McKitrick said. "We have a lot of emphasis on the commonality of data now through for heavy duty parts, and getting that moved out."
Because of this, he said heavy duty parts distributors have adopted a management type system to ensure "that the parts are available when it's needed and not have to wait an hour, a day, three days down the road for it."
McKitrick said that with COVID-19 affecting communication with customers and partners in the supply channel, N.A. Williams has had to craft several plans and stay in constant (remote) contact with stakeholders, and that staying fluid and staying up-to-date on video conferencing and other similar digital tools have helped them "stay ahead of the curve."
Even so, McKitrick said to retain those vital relationships the company has tried to meet people in person, from restaurants to park benches.
"We found there were a certain amount of things that weren't getting done unless we just had a physical presence there," he surmised. "There's no substitute for that to get some things done."